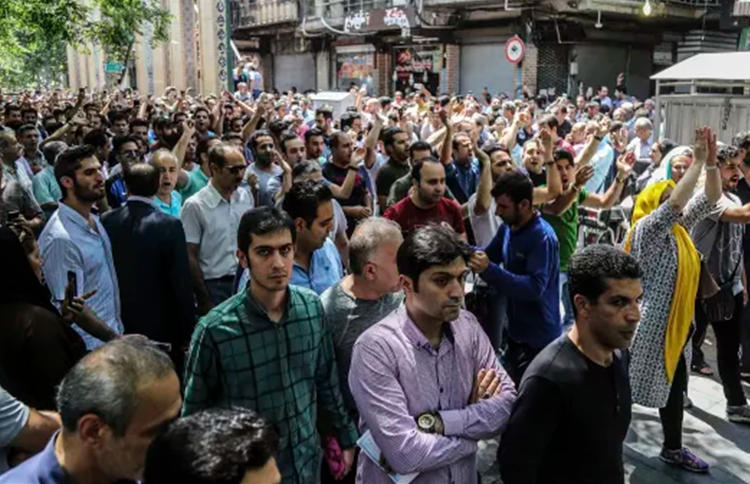 By Jubin Katiraie
The Iranian economy is in a much more precarious situation than was predicted just a few months ago, according to political scientist Dr Majid Rafizadeh.
He explained that in April, the International Monetary Fund (IMF) reported that inflation in Iran would reach 40%, while the World Bank estimated in June that Iran's gross domestic product (GDP) would drop by 4.5% in 2019, which was 0.9% worse than its January prediction. However, Rafizadeh cited data from the Statistical Centre of Iran that paints a bleaker picture, which inflation reaching a huge 50%. This is even worse in rural areas, where inflation has reached 60%, and for food items, given that the cost of meat has risen by 95%.
Of course, in order to properly assess the economic situation, we need to look at how it affects ordinary people, which means examining the average salary and employment rate. Here are some statistics to demonstrate:
• The average monthly salary in Iran is $200
• The unemployment rate is in the double digits
• Over 40% of Iranians (approximately 32 million citizens) live under the poverty line
• Over 30% of young, educated people in Iran cannot find jobs
• Most salaries for full-time workers will not even cover rent, let alone food, medicine, etc
There are several reasons for the economic crisis in Iran, including the renewed US sanctions that are designed to force the Regime back to the negotiating table for a deal that addresses all of their malign behaviours. These sanctions, particularly on Iranian oil, have been hard-hitting and caused the Regime a great deal of pain, however, the main cause for Iran's high inflation and crumbling economy are actually underlying problems in the Regime's political and financial institutions; namely mismanagement, embezzlement, money laundering, and corruption. The Regime also spends billion to prop up militias, terror groups, proxies, and dictatorships across the region.
Most of this can be attributed to Iran's Islamic Revolutionary Guard Corps (IRGC) and its affiliates, the Office of the Supreme Leader, and the regime's cronies, which control considerable parts of the economy and financial systems. The IRGC controls over half of Iran's GDP and owns several major economic powerhouses and religious endowments, such as Astan Qods Razavi in Mashhad.
Rafizadeh wrote: "The high rate of inflation is ravaging Iran's economy and hurting the ordinary people. But there is no one to blame other than the Iranian leaders for their widespread corruption, mismanagement of the economy, and expenditure on terror and militia groups across the region."