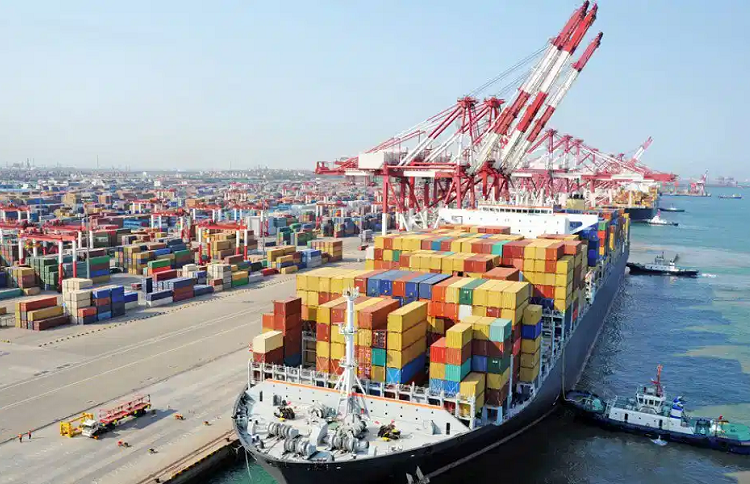 By Jubin Katiraie
In recent months, Iran's oil and non-oil exports have fallen sharply due to the reinstalling of U.S. sanctions.
The Iranian government refuses to provide transparent statistics about imports and exports. However, numbers released by other countries and relevant international bodies show that both Iran's oil and non-oil exports have dramatically declined.
In its annual statistical bulletin released in July, the Organization of the Petroleum Exporting Countries (OPEC) reported that the Iranian government's annual oil revenue decreased by more than $41 billion in 2019 compared to 2018.
Last year, the total export of Iran's crude oil and oil products was $19.230 billion, less than one-third of 2018. Under this year's budget bill, the administration of Iranian President Hassan Rouhani expected to export one million barrels of oil per day (BPD)—five times over the current real export–for $50 a barrel, twice the actual price during the spring.
With a ballpark figure, the government predicted to earn $18.250 billion by exporting crude oil and oil products. However, based on the current trend, only 11 percent of this amount will probably be realized, leaving the Iranian government facing a massive budget deficit.
In mid-July, Indian Customs announced a 26-fold drop in its imports from Iran in the first half of 2020. India's imports from Iran in the first half of last year reached more than $3.2 billion. In the past six months, however, New Delhi has imported less than $124 million from Iran.
India's exports to Iran also fell 46 percent to $1.4 billion. For the first time, the trade balance between the two countries has been to Tehran's detriment, and India's exports to Iran are more than ten times its imports.
Additionally, in its new statistics, Chinese customs reported the Iranian government's exports to China have decreased by 62 percent during the first half of this year compared to the same period last year. In the first half of 2020, the report says Beijing has imported a total of $3.132 billion from Iran. China's exports to Iran also fell 6 percent and reached $4.25 billion during this period.
Notably, in 2018, the Iranian government exported about $21 billion to China and its import amounted to $14 billion.
"Iran's exports to China had dropped by 50 percent in the last four months," said Majid Reza Hariri, Chairman of the Iran-China Chamber of Commerce Majid Reza Hariri, on May 27.
Meanwhile, new statistics released by the Chinese customs indicate that in the same period the Iranian government's exports to China reached  $2.340 billion, rendering a 61.2-percent drop in comparison to the same period last year despite all the secret and public negotiations over the 25-year deal between Beijing and Tehran.
Much of this decline is due to the fall in Iranian crude oil exports to China. Since April, Iran's oil exports to China have reached about 70,000 BPD, while China is the ayatollahs' most important trade ally.
On the other hand, from March 2019, the Iranian Customs Organization stopped publishing monthly import/export reports. However, the general customs statistics show that in the spring of 2020, Iran's total non-oil exports have fallen 44 percent and reached $6.4 billion, which is $1.2 billion less than the country's imports.
These statistics show Iran's trade balance has become negative for the first time. In April and May, customs statistics also show that Iran's non-oil exports decreased by 49 percent, reaching $4.3 billion. This figure was above $8.4 billion in the same period last year.
According to Seyyed Mehdi Mirasharfi, Director-General of the Iranian Customs Organization, the value of the government's non-oil exports in the past four months was $6.364 billion, 44 percent less than the same period last year.
Despite the sharp decline in the Iranian government's oil and non-oil exports in 2020, the ayatollahs are facing yet another dilemma regarding the non-return of foreign exchange due to banking sanctions. In their July 21 copy, the Times daily and South Korea's Yonhap News Agency reported that from September 2019 two South Korean banks had frozen $7 billion of Iranian oil money due to U.S. sanctions. This country's customs statistics show that South Korea's total exports to the Iranian government in the first six months of 2020 will not even reach $90 million. The Iranian government's exports to South Korea were only $5 million during the same period.
Under the U.S. sanctions' regime, Iran can only use these assets to import humanitarian goods such as food and medicine from South Korea.
Meanwhile, in a sign of Iran's desperate need for money, Tehran recently demanded that Iraqi Prime Minister Mustafa Kadhimi settle Iraq's $5 billion debt in return for gas and electricity exports. Afterward, Iranian media outlets reported that the government had established a Baghdad-based company to purchase Iran's needs using the $5 billion debt.
This is while the Iranian government has pushed the country into increasing isolation and limited the country's banking system by disapproving the Financial Action Task Force (FATF) bills. In this respect, even under the 25-year Iran-China deal, Iranian authorities will meet more difficulties due to the fact they had to accept soft currencies—not the U.S. dollar or euro—in exchange for their exports to China.
"According to the Central Bank, €20 billion were exported in early 2020, but its currency has not returned," said Rouhani on July 9, 2020. Of course, this is not the whole story and the ayatollahs' real concern is about potential protests fueled by economic dilemmas.
Read More: