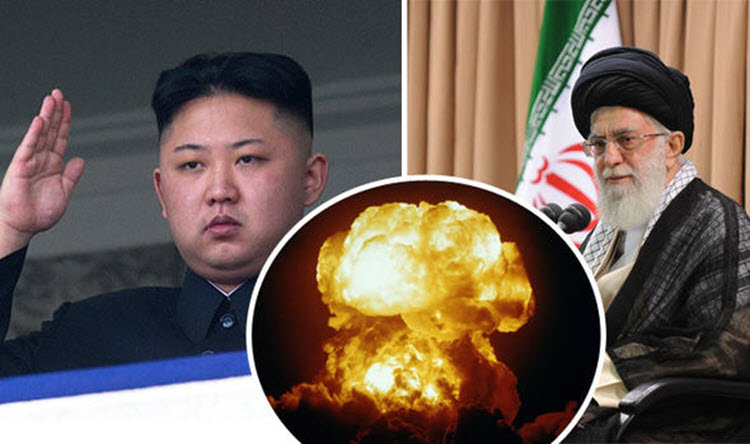 Iran Focus
London, 29 Aug – Baria Alamuddin, the foreign editor at Al-Hayat, wrote an op-ed for Arab News, entitled: "A threat to us all from the rogue merchants of death", in which she described the illicit military cooperation between North Korea and rogue states such as Iran and Syria as "perhaps one of the major untold stories of our time".
She explained that before the realities of the Iranian nuclear programme were know in the West, the Iranian Regime had been cooperating with North Korea in order to create their flagship ballistic missiles. Whenever North Korea stages nuclear tests, they invite Iranian experts as VIP guests.
So far in 2017, both Iran and North Korea have sought attention from the US with provocative missile tests and they are both still collaborating. The 2015 nuclear agreement which was supposed to stop the Iranian Regime from developing their nuclear weapons programme has provided the Regime with billions of dollars which they can direct to the North Korean nuclear programme without technically violating the deal.
Alamuddin wrote: "The failure to address Korea's nuclear posture actively invites Tehran to seek its own breakout capacity, while encouraging Syria to restock its WMD arsenals. Such a scenario would make this despotic, theological regime in Tehran unassailable — using its oil wealth and military might to threaten the world and destabilize its neighbours."
Indeed, recent images show Iranian missile storage centre in Banias, eastern Syria and in Lebanon, indicating that their missile programme is far from over.
Alamuddin wrote: "These "axis of evil" pariah states have much in common, confronting international isolation and encirclement. Observers warn that when North Korea refines its ability to fire long-range nuclear weapons, Iran could have that capability the next day because of their long-standing bilateral defence contracts."
She continued: "Despite the [2015] agreement's obvious shortcomings, rather than seeking to undermine it, the Trump administration must use all powers available to ensure that Iran fully complies, refrains from meddling elsewhere and is given no excuse to return to clandestine nuclear activity."
She questioned the scrutiny that the Iranian Regime was being subjected to, noting that the Iranian Resistance forces have supplied evidence showing that the Regime is up to its old tricks again and receiving the US.
This is not the only evidence that the Iranian Regime is working against the deal.
Alamuddin wrote: "This underscores the Revolutionary Guard's role in regional arms proliferation, smuggling arms to Hezbollah and other proxies and using weapons smuggling to destabilize fragile African states, while profiteering from drugs and other contraband goods. The IRGC, North Korea and criminal networks thrive on instability in Syria, Afghanistan and elsewhere to peddle their lethal wares around the world."