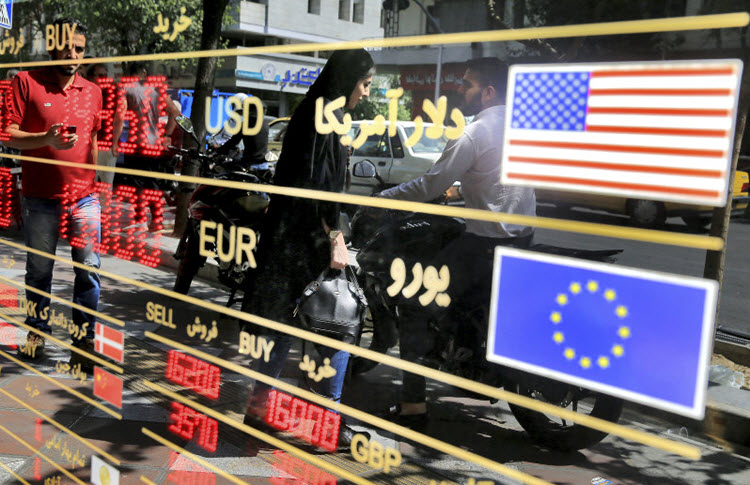 Iran Focus
London, 7 Sep – On Wednesday, residents of Tehran lined up outside moneychangers as Iran's rial fell to a record low, a 140-percent drop in value since America exited the nuclear deal last May.
The Iranian week begins on Saturday, and by the end of the day on Wednesday, the Iranian peoples' money had lost a quarter of its value.
"Everyone's just nervous," said one resident. However, state media has not acknowledged the drop.
Chaos reigns in Tehran. Several exchange shops in Tehran turned off the electronic signs that display the current rate for the U.S. dollar. Iranians who sought currency had to rely on informal money traders on street corners. Exchange shops that remained open offered 150,000 rials to the U.S. dollar. Travel agents accept only hard currency. Diapers have disappeared from store shelves.
In the past, when the shah overspent on military arms in the 1970s, or with Western sanctions that followed the 1979 Islamic Revolution and U.S. Embassy takeover, Iran's economy faced troubled times. Oil price fluctuations also negatively affected the economy. Today's currency crash has a direr tone, in that it has dashed the hopes that followed the 2015 nuclear deal Iran struck with world powers, including the administration of then-President Barack Obama. In signing the deal, Iran agreed to limit its enrichment of uranium in exchange for the lifting of some economic sanctions. Although Tehran insisted that its nuclear activities were peaceful, the West feared Iran would use its nuclear material to build atomic bombs.
Despite repeated acknowledgements from the United Nations saying that Iran had lived up to the terms of the deal, President Trump withdrew America from the accord. He wants Iran to agree to stricter terms that include limiting its ballistic missile program, curtailing its regional influence, and limiting its nuclear activities forever.
European nations want the deal to continue, but America's influence on global financial markets forced oil companies and airplane manufacturers to quickly withdraw from working in the country, or face sanctions themselves.
In early November, sanctions that target Iran's oil industry, a key source of hard currency, go into effect.
While the Trump administration denies that it wants to overthrow Iran's government through economic pressure, Iranian officials say it is clear that this is the goal.
Supreme Leader Ali Khamenei called the U.S. moves economic "sabotage". He specifically referred to the diaper shortage, as nearly 70 percent of material for disposal diapers is imported. Purchases from abroad become more expensive as the rial falls. "Imagine that in Tehran or other major cities, baby diapers suddenly become scarce. This is happening, this is real, this is not make-believe. Baby diapers!" In a transcript on his official website Khamenei added, "This makes people angry. On the other side, the enemy wants people to be angry with the government and system. This is one of their ways."
A plan for the distribution of subsidized goods directly to the people was developed by lawmakers after budget head Mohammad Bagher Nobakht warned there would "be long queues in front of the shops, like money exchange houses, that can create an ugly scene in the city alleys and streets."
Lines like he described were seen in front of money exchange shops near downtown Tehran's Ferdowsi Square on Wednesday. Airline tickets for travel abroad was required by the shops for those purchasing foreign currency. Those without tickets were turned away, and had to find informal moneychangers, who waved bundles of U.S. currency to signal their availability.
"We have some savings, and (the) value of our money is going down every day while the dollar's price keeps going up," said a 25-year-old who wished to remain anonymous. "We figured we should buy some dollars to protect our assets." His 24-year-old fiancée said, "Unfortunately every item we lay our hands on suddenly gets expensive."
A 40-year-old man seeking US dollars, blamed government inaction in part for the crisis."There is no glimmer of hope that the situation changes because everything depends on firstly the government's policy to sort out this problem," he said. "And we have up to now seen no kind of practical and effective way or solution on behalf of the government to solve this problem."
A man waiting in lines at an exchange shop said, "It's the land of confusion."